Love and the Final Solution
No longer Death. When Love Kissed Us Instead.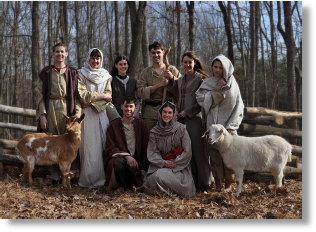 This is a letter written as a personal response to what I have seen and met this year - from shame to depression and working for approval, identity issues, and purpose. The root revelation here signaled major change in my own life July, 2012.
What was the significance of Jesus' birth?
Love came down and put on my shoes. He put on my skin to walk where I was; To feel what I felt. To understand His creation from their level. When Jesus entered earth through the door of a woman's womb, He was already on His way to the cross. He was headed to propose marriage between God and Man. Yet, does the Christ-ian recognize the nature of this relationship? (John 17:19-24, Ephesians 5:25-32) Do you realize you were the bride that was sought after; pursued, and that heaven went bankrupt for? (Hosea 2:16,19-22, Ezekiel 16:6-13)
What really happened at Jesus' birth? There are many facets to a diamond: Our wrongdoing was an issue that spelled severance from God. But sin was addressed and the solution given that night - only Jesus' blood could wash it white. (Isaiah 1:18) On Jesus, God's judgment would fall - (in place of you). The case was over as far as He was concerned. (Romans 5:8-11) The argument against you, He put behind Him and welcomed you with peace and good will (to bless and not curse you). (Jeremiah 29:11-14, Luke 2:10-14)
What happened at Jesus' birth is the answer to the question:
"Is God going to break my leg to teach me something?"
I am going to make a bold statement and then lay out the tracks. "NO! God is no longer responsible for the bad things that happen to people.
At Christ's Birth, Love came down to prepare a proposal. A covenant where the two become one and the bride is nourished and cherished as God's own Body." (Ephesians 5:25-32)
Your mouth may well be dropped so wide it's touching earth! But please, let me show you what I found.
Ephesians 5:29-32 For no one ever hated his own flesh, but nourishes and cherishes it, just as the Lord does the church. For we are members of His body, of His flesh and of His bones. "For this reason a man shall leave his father and mother and be joined to his wife, and the two shall become one flesh." This is a great mystery, but I speak concerning Christ and the church. (NKJ)
Would you break your arm, to teach it not to drop something? Would a husband break his wife's wrist to teach her to do the laundry? He would be considered abusive and jailed for domestic violence! Are we more loving than God? If God compares this new covenant with the nature of marriage then He will not put sickness on His own body; He won't kill your baby, or throw you out of your home.
A ring was offered in salvation. God made His mind up about you forever and wears His in both hands for all eternity where the nail holes inscribed it. (Isaiah 49:15-16)
What was your response?
People have said: "You never know what God is going to do. He killed all those people in the old testament!" Yes, He did. Let me ask you, "Do you know why?" Most can't answer this!
In a nutshell here is why: God is Holy and sin is unholy, therefore, sin demands judgment for God to be Just. (Romans 6:22-23) Man sinned, thus God had to pour wrath out on him prior to Jesus. This was not ok with God, because it meant destroying what He loved. (John 3:16) NOTICE from the Beginning when man first sinned: that separation was immediately not ok. "Adam, Adam! Where are you??" He came Himself, He didn't send Gabriel. Nonetheless, man's sin required blood... Did you ever observe: God killed an animal instead and made a "covering" for man? (Genesis 3:21) A promise and foreshadow of Jesus was given to His beloved. (Genesis 3:15)
John 3:16-17 "For God so loved the world that He gave His only begotten Son, that whoever believes in Him should not perish but have everlasting life. "For God did not send His Son into the world to condemn the world, but that the world through Him might be saved. (NKJ)
BLOOD & COVENANTS
God had a plan. (I Peter 1:18-21) Follow me briefly through the old, mosaic covenant - This gets interesting and leads to the new, marriage covenant through Jesus.
(Romans 3:20-27)When God gave the law to Moses, it was not so man could perfect himself. It was not rules to win God's approval back. Like: "If you want Me to love you, here's the list - If you don't, I'll be mad!" (Man was already the apple of God's eye, and God wanted him back)
NO! The purpose of the law was this: 1. To show that sin was a transgression and
2. That man needed a savior from himself.
A mule can't run like a horse; it's the altered genetics. Man's spiritual genetics were altered by sin. God knew we couldn't win. (That wasn't the purpose here. We needed to be a new creation and recognize that need for the solution. 2 Corinthians 5:17)
Of course man would fail under the law and sin would still demand judgment. So look what Love did: With the law, God IMMEDIATELY instituted blood sacrifices. Why? He never wanted to destroy man! The Priest would lay their hands on the head of the sacrifice, symbolically transferring the man's sin onto the body of that sacrifice. Thus, God could judge their sin on the lamb instead of the man. The priest would then sprinkle the sinless blood of the sacrifice (as a covering) (Exodus 24:4-8, Leviticus 8). And God looked at the man through the blood of that lamb - not the sin of his past. So from sacrifice to sacrifice, he obtained covering. (read Leviticus & Hebrews)
Even in this transitory period, God's love burned for man to spare him through the blood:
2 Chronicles 36:15 And the LORD God... sent warnings to them by His messengers, rising up early and sending them, because He had compassion on His people and on His dwelling place. (NKJ)
Ezekiel 33:11 "Say to them: 'As I live,' says the Lord GOD, 'I have no pleasure in the death of the wicked, but that the wicked turn from his way and live. Turn, turn from your evil ways! For why should you die, O house of Israel?' (NKJ)
Do you see the significance of Jesus' birth and His permanent sacrifice?
God had to judge sin. When they stopped sacrificing and turned to idols, there was no lamb to receive the judgment for them - so they had to receive it. Ohhhh! Ohhh! This period was pointing and painting a shadow of Jesus, the final sacrifice. The Lamb of God. (John 1:26) His blood was poured out for your sin; if refused, there is no other sacrifice to receive the judgment for you. Jesus, was the Final Solution. (read John 14:6 Hebrews 8:7-13)
But Christ came ... Not with the blood of goats and calves, but with His own blood He entered the Most Holy Place once for all, having obtained eternal redemption. For if the blood of bulls and goats and the ashes of a heifer, sprinkling the unclean, sanctifies for the purifying of the flesh, how much more shall the blood of Christ, who through the eternal Spirit offered Himself without spot to God, cleanse your conscience from dead works to serve the living God? And for this reason He is the Mediator of the new covenant, by means of death, for the redemption of the transgressions under the first covenant, that those who are called may receive the promise of the eternal inheritance. - Hebrews 9:11-15 (NKJ) That Blood permanently washes out your sin and the handwriting of requirements against you. (Colossians 2:3-15) It's your choice to accept even as soap is a choice to use. Unless applied, you remain dirty.
The covenant proposal: Love burned for you and gave His blood! It was the Final Solution to sin and the proposal to marriage. Intimate friendship and partnership.
Jesus' birth, death, and resurrection is closure to the question: "Is God mad at me?" Isaiah 54:8-10 With a little wrath I hid My face from you (Jesus) for a moment; but with everlasting kindness I will have mercy on you (His Body)," says the LORD, your Redeemer. "For this is like the waters of Noah to Me; for as I have sworn that the waters of Noah would no longer cover the earth, so have I sworn that I would not be angry with you, nor rebuke you. ( - Because God poured out all the wrath you deserved on the Sacrifice - to treat you sinless) For the mountains shall depart and the hills be removed, but My kindness shall not depart from you, nor shall My covenant of peace be removed," says the LORD, who has mercy on you. (NKJ)
* Why are you trying to earn His love? His Approval. His Favor... You already had it - in your worst state. Romans 5:10 "For if when we were enemies we were reconciled to God through the death of His Son, much more, having been reconciled, we shall be saved by His life." (NKJ) You're wearing yourself out. Believe He loves you. God isn't the personalities you have met in life. Love met the most intensive need you had. Therefore you can trust Him with every room in your heart. That love drives out every fear. If God were going to hold something back, it would have been Jesus - not money, healing, direction, a house, or even the Holy Spirit. Look what He did to get you!
Wake up! God is Love - not an angry, manipulative boss. When you fall in love with someone, you want to be with them and please them. You look for ways to surprise them... It's no drudgery or chore. It's a two way exchange; a picture of you and God as intended. The happiest place in my life is when I am gazing into His eyes. My heart settles because I know Him - and I want to know Him in each room. (I John 4:18)
Listen, if you've messed up somewhere, confess it to Him. He swore to forgive you and to guide you into success. (I John 1:9)
Hosea 2:16, 19-20 "And it shall be, in that day," says the LORD, "That you will call Me 'My Husband,' and no longer call Me 'My Master,' I will betroth you to Me forever; yes, I will betroth you to Me in righteousness and justice, in lovingkindness and mercy; I will betroth you to Me in faithfulness, and you shall know the LORD. (NKJ)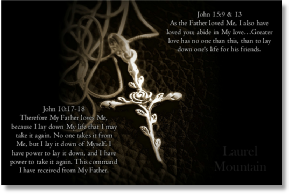 To the Beloved Sinner:
The end of your life is coming, and God will ask you, "What did you do with Jesus? What did you do with the final sacrifice for your sin?" Your choice must be made this side of hell. If you didn't accept Jesus' Blood, judgment is still due sin and nothing stands between you and it? Love gave the solution. Romans 10:9-10 "if you confess with your mouth the Lord Jesus and believe in your heart that God has raised Him from the dead, you will be saved. For with the heart one believes unto righteousness, and with the mouth confession is made unto salvation." (NKJ)
The Bible talks about the end, the final days, and the judgments that will fall on those who have not accepted Jesus. Revelations 8:1 God is about to open the seventh seal, and He took it very seriously. He knew He had to pour out the judgment on those who rejected Jesus' blood. But this was not funny. (All the way to the extreme last He had called out and warned.)
God, Himself, had to take a time out. And there was silence in heaven for the span of a half hour. (A day is as a thousand years in heaven) God stopped everything - even the worship. He took what was about to happen seriously.
Do not be one of those people to miss the wedding, on whom judgment must fall when it didn't have to!
* Hebrews 10:29,31
29 Of how much worse punishment, do you suppose, will he be thought worthy who has trampled (Jesus) the Son of God underfoot, counted the blood of the covenant by which he was sanctified a common thing, and insulted the Spirit of grace?
31 It is a fearful thing to fall into the hands of the living God. (NKJ)
* 1 Peter 1:18-21 knowing that you were...redeemed... with the precious blood of Christ, as of a lamb without blemish and without spot. He indeed was foreordained before the foundation of the world, but was manifest in these last times for you who through Him believe in God, who raised Him from the dead and gave Him glory, so that your faith and hope are in God. (NKJ)
* I John 4:9-10
In this the love of God was manifested toward us, that God has sent His only begotten Son into the world, that we might live through Him. In this is love, not that we loved God, but that He loved us and sent His Son to be the propitiation for our sins. (NKJ)